Over 115 years of tannery in the Dutch epicentre of the leather industry
Rompa Leather is reaching new heights
Satisfying all customer requirements in a sustainable way is something we wish to excel in, both now and in the future. We are proud of our historical roots in the production of premium European leather and of the constant steps we are taking towards maximizing our sustainability. As a tannery, we are also an indispensable link in the agricultural loop and we are actively working on closing it completely; for instance, did you know that at our sister company HPT, we process the splits of our hides into valuable proteins to reduce unnecessary waste?
In this video, we take to the air to share some of our most recent developments in sustainability and product optimization.
Rompa Leather has been around for decades and has been an active player in the Dutch – and worldwide –  leather industry ever since. Our story is closely intertwined with the heritage of our region, where leather processing has been vital since time immemorial.
We are proud of our rich history and the experience we have built up throughout the years. After all, our consistent product quality and innovative strength is a direct result of our unique past. 
Shoemakers set up shop
Shoemaker's workshops are settling in large numbers in the region of North Brabant. To bring in an extra income in winter, local farmers start supplying these shops by tanning leather at their homes.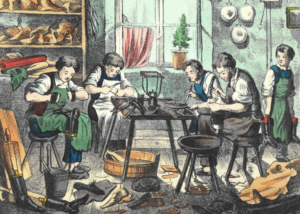 © Winckelmann
First Dutch tannery
In the North Brabant village Langstraat, the very first Dutch tannery starts up production. 
The region develops
The trade spreads to other villages and cities in the province of North Brabant. The tanning industries in Eindhoven, Ravenstein and Rijen get off to a quick start.
© Rijksdienst voor het Cultureel Erfgoed
The Nederlandsche Stoomleder Fabriek is founded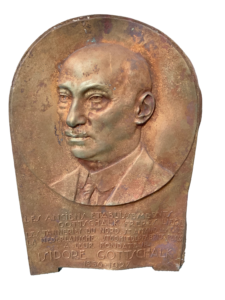 The Belgian family Gottschalk start their business at Stationstraat 10 in Rijen.
New, cutting-edge facility
As the traditional facilities are demolished and get replaced by a modern factory, the company becomes a prime example of a modern, efficient and large-scale tannery.  The site even includes workers' facilities, such as washing rooms, a rare feature at the time.
Change of ownership
The Rompa family takes over N.V. Nederlandse Stoomleder Fabriek.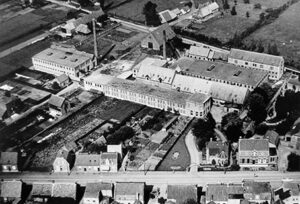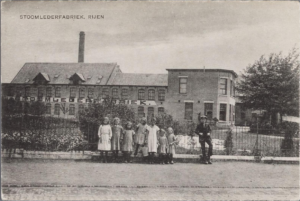 Shifting specializations
In the past N.V. Nederlandse Stoomfabriek mainly focused on the production of sole leathers. But in the middle of the 20th century the company shifted its attention to harness and over-edge leathers. From then on, the tannery rapidly specialized in high-end fashion leathers and high-spec (CEN) leathers.
Rompa Leder BV
N.V. Nederlandse Stoomfabriek is rebranded to Rompa Leder BV. 
New, innovative plant
The company innovates again by building a new, ultra-modern tannery at Provinciënbaan in Rijen. The new facilities enable Rompa Leather to continue keep growing and reinvent itself continuously.
Part of the Sopraco Group
Rompa Leather becomes part of the internationally renowned Sopraco Group. This enables Rompa to focus even more strongly on vertical integration, sustainability, traceability and innovation.
Part of the Sopraco Group
Rompa Leather is part of the SOPRACO-GROUP, one of the main suppliers of meat and derived products in Europe. Our group of companies includes, amongs others, cattle farms, feed mills, logistic services, protein technologies, slaughterhouses and leather production facilities.
By anchoring Rompa Leather within this powerful international group, we strengthen our individual business operations and strive to mutually improve our products.